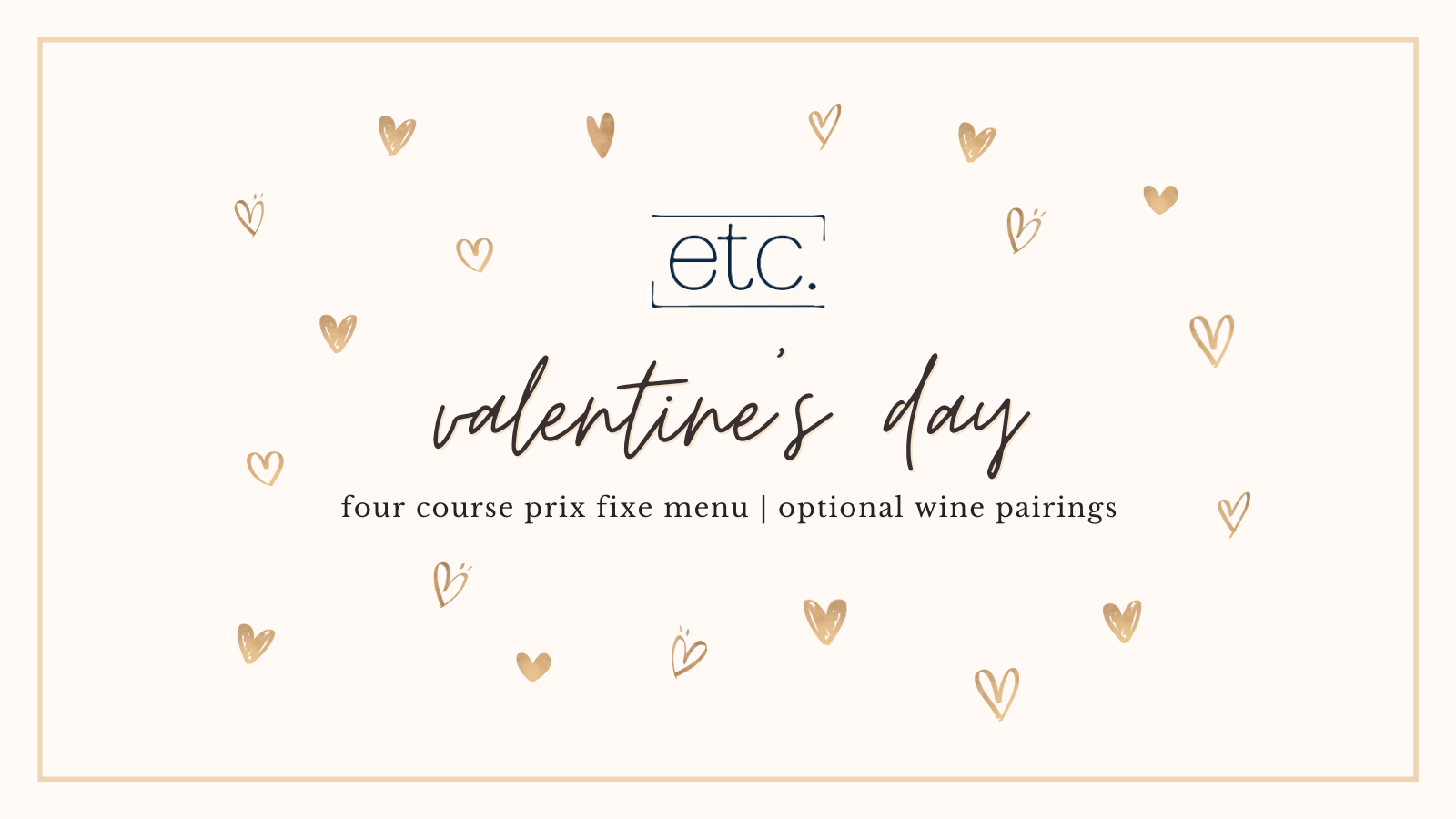 enjoy an intimate dinner this valentine's day at etc. with your special someone! deb & the culinary team will be presenting a four-course prix fixe menu on the evening of february 14th. optional wine pairings are available to add on; our full drink menu will be available as well. 
a credit card number is required for reservations and there is a $50 cancellation fee per person in the event of a cancellation within less than 48hrs of the event. the dinner is $95++ per person with optional wine pairings for an additional $45++ per person.
make your reservations online or call us at 615.988.0332.
---
starters
choice of one:
butternut squash ravioli sage brown butter, celery serrano syrup, smoked apple purée, whipped taleggio
thai yum-yum guacamole shrimp & scallop ceviche*, papaya jam, coconut gel, corn rice crackers
oyster mushroom & potato bisque* red curry crema, fried lily pad seeds
mushroom éclair black walnut relish, shaved prosciutto, parmesan anchovy whip, pea pesto
venison carpaccio* zola rub, smoked cranberry sauce, passion fruit butternut sauce, pecan-raisin-mustard seed quenelle, crackers
salads
choice of one:
stuffed romaine feta goat cheese, pine nut olive oil, pickled mushrooms, celery leaf, cherry tomatoes, hearts of palm, preserved lemon kale sauce
pasilla honey warm roasted carrots frisée, mixed greens, plantain sugar cane vinaigrette, beet hibiscus sauce, buttermilk whip, pistachio dusted jumbo lump crab
entrées
choice of one:
beef ribeye* silver dollar potatoes, blue cheese mousse, duck fat charred broccoli, green lima bean pesto, 6 hour brown sauce, beet calabrian sauce
vegetable potato pierogi smoked mushroom duxelle trio, tofu white bean garlic crema, vegan cheese, vegetable black olive gravy, tomato mustard seed jam, nasturtium pesto, fennel-basil-pea shoot slaw
pistachio salmon coconut couscous sweet potato filo cup, pea shoots, orange peel & cocoa nibs, ginger shrimp roja sauce, sugar peas, smoked cinnamon sour cream
confit duck leg wasabi tempura, black bean hoisin fig butter, butternut brioche ginger bread pudding, sesame carrot, chinese mustard gravy, charred broccoli
seared lamb loin* 7 spiced cauliflower, fennel, roasted carrot, chickpeas, kale, sumac preserved lemon butter, brown sauce, lasagna noodles, avocado sauce, shakshuka tomatoes, feta
desserts
choice of one:
strawberry & champagne mille feuilletine puff pastry layers, strawberry crémeux, crème fraîche, strawberry compote, champagne gelee
chocolate hazelnut mousse cake hazelnut brownie, praline chocolate mousse, milk chocolate crunch glaze, morello cherry sauce