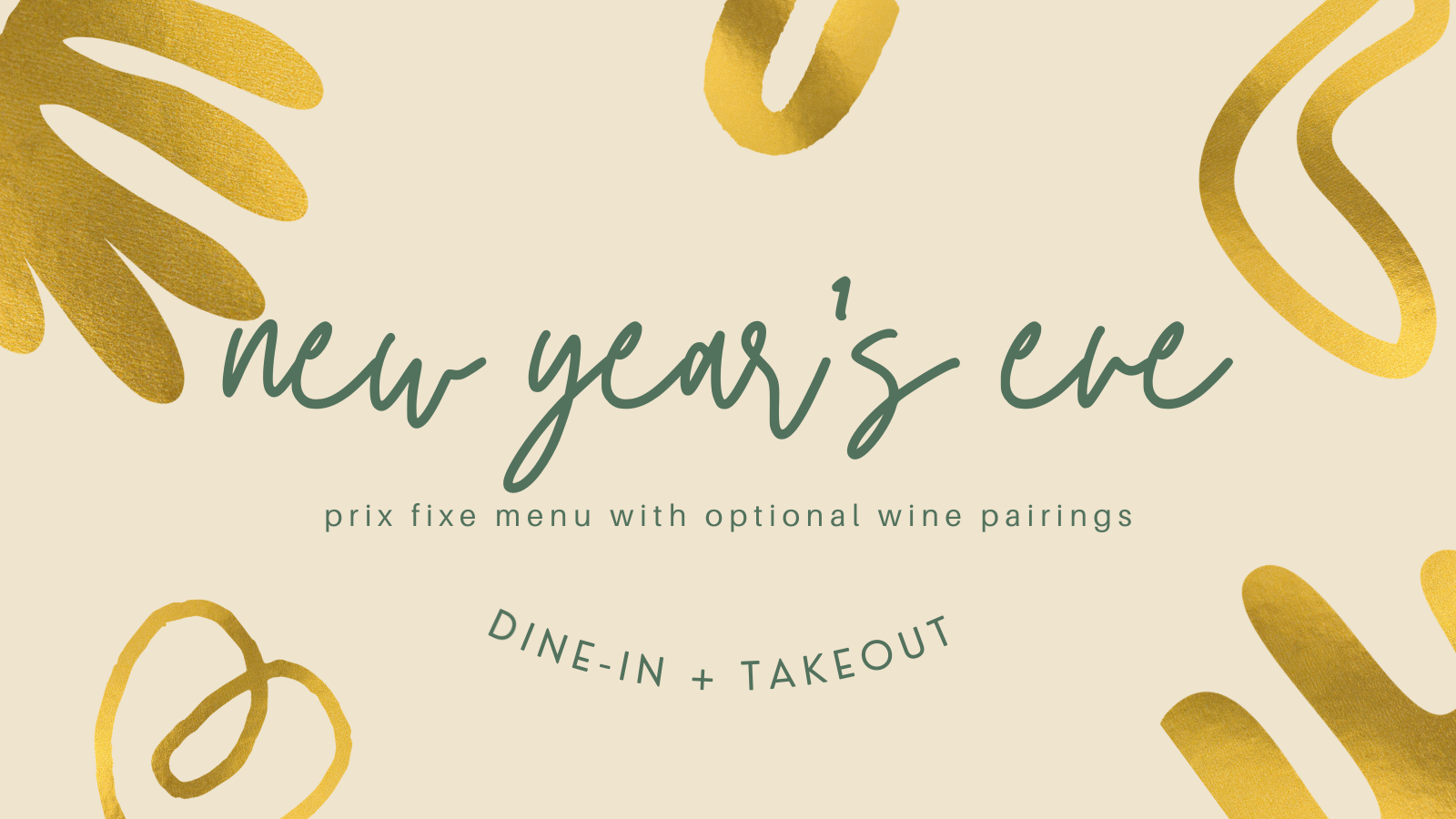 as 2020 comes to an end (cue the bubbly!), we have two ways to celebrate the start of a new year. deb and her culinary team are offering a special prix fixe menu to enjoy at the restaurant, or you can pre-order a three-course meal to pick up and re-heat in the comfort of your own home.
for our in-house dining experience, we will be following all social distancing guidelines to ensure a safe dining environment for our team and guests. we recommend reservations be made early to ensure your spot, as we will be operating at a reduced capacity.  a credit card number is required for reservations and there is a $50 cancellation fee per person in the event of a cancellation within less than 48hrs of the event. the dinner is $80++ per person with optional wine pairings for an additional $30++ per person.
pre-orders for our three-course pickup option are due by december 27th; pickup is on december 31st between 12 – 3pm. all meals will be packaged for two people with re-heating instructions to prepare at home. the dinner is $100++ per meal kit (feeds two people) and includes a champagne toast. we are unable to provide substitutions for pickup orders at this time.
make your reservations online or call us at 615.988.0332.
---

amuse-bouche
mushroom bisque d'acour  asparagus frites | black garlic oil | horseradish parmesan toast
starters
choice of one:
mediterranean salad  kale | spaghetti squash | shaved fennel | shrimp | smoked lemon oil | parmesan | sundried tomato & red bell vinaigrette | basil oil | black olive crumble
beet salad  moroccan spiced red beets | mango panna cotta | mixed greens | ginger vinaigrette | candied pumpkin seeds | fresh raspberries | winter flower petals
spanish cheese donut  fried brioche | spanish sheep and goat cheese | sauce romesco | saffron amarillo aioli | asparagus
fig & pistachio confit duck leg  sweet potato and pickled chili cherry filo cigar | smoked apple essence | cocoa nib dust
grilled octopus  salsa verde | zucchini | green onion | parsley | fried potatoes | smoked chickpea olive oil sauce | shaved herb roasted pork loin
entrees
choice of one:
lamb loin  fermented black bean honey butter | tempura sweet potato frites | lemongrass carrot gochujang sauce | white chocolate five spice green beans | peanut ginger tangerine crumble
scallops  french green lentils | turnip and potato planks | dijon tarragon gruyère cheese | tomato caper anchovy relish | fennel
ribeye  celery endive and pea shoot salad | alium olive oil | fried fingerling potato | blue cheese crema
vegetable tower  asparagus | charred carrots | smoked white bean cashew croustade | green tomato crudo | calabrian tofu confit shallot sauce | cauliflower sundried tomato relish | basil pasta nibbles
desserts
choice of one:
chocolate raspberry torte  flourless chocolate cake | raspberry | dark chocolate glaze | whipped cream | raspberry sauce
pavlova  vanilla bean baked meringue | lemon curd | citrus segments | candied tangerine peel | cranberry drizzle
---

champagne toast chardonnay/pinot noir/pinot meunier | laurent-perrier | brut | champagne, france  NV
cured salmon citrus beet sauce | mustard cream | pickled mustard seed | red onion apple jelly | spring mix | poblano oil
filet mignon with potato filo purse smoked rutabaga thyme brulee | balsamic black olive brown sauce | asparagus | preserved lemon butter | pistachio herb crumble | aleppo and duck fat roasted carrots
chocolate raspberry torte flourless chocolate cake | raspberries | dark chocolate glaze | whipped cream | raspberry sauce